Happy 2019 ! (Been beyond busy, musical quips coming shortly..)
Happy 2018! (Been beyond busy, musical quips coming shortly..)
October 2017
Starting on the first season of Black Lightning! Feeling super, hanging out with fantastic Matthew Nelson (left) of Foreward Productions in his new studio, look him up. Little big bro (right) in town, seeing the sights sitting down behind Mr. Bruno Mars's old Roland. Very humbling experience being in Los Angeles thus far!
August 2017
Made our way to RH Factor dub stage in beautiful Burbank, CA. What are we working on? Wait and see!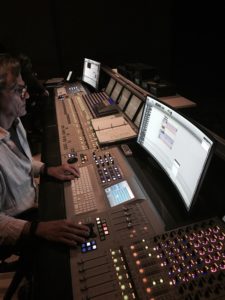 July 2017
Get lit. Black Lightning coming at you on CW in 2018!
May 2017
One of my first days at the "office" – can't complain, can I ? At the Paramount dub stage for BET's, "Being Mary Jane" Season 4!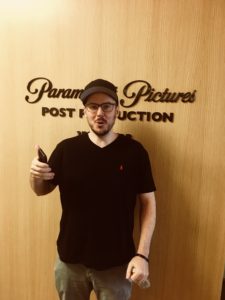 We made it! My meek little studio setup with an empty apartment in WeHo, currently sleeping on a twin mattress from Ikea (thanks guys) on the floor until my boxes arrive. #buildittheywillcome #keepfightingthegoodfight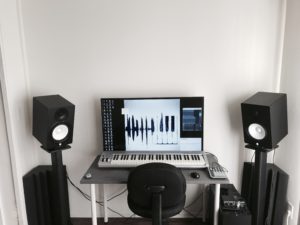 April 2017
So long Chicago, Los Angeles, here we come! Exciting news on the horizon, I've been offered a position as composer assistant in a renowned studio (Bruno Mars, Lady Gaga etc) in Hollywood for a veteran TV composer. I cannot express the excitement I have for the opportunity and look forward to taking this music game to the next level!
March 2017
Happy Spring everyone!
I've been meaning to update this more frequently, but I've been extremely busy. Already pulling together a dozen projects for the new year AND adding some video game titles to the mix! Stay tuned!
---
January 2017
HAPPY NEW YEAR EVERYONE !!!! ****$$$###%%%
Particles (Sci-Fi Thriller) by Josh Beck                                                                                                     Michael (Sci-Fi Thriller) by Julian Maund-Klüppel                                                                                    Frontier (Thriller/Drama) by Elliot Brady                                                                                                       Golazo (Inspirational/Action)
And a couple more I can't mention at the moment, stay tuned!
December 2016
We won the Emmy! www.lifeafterhate.org PSA campaign is officially an Emmy Award-Winning piece that I am proud to have created the musical score for!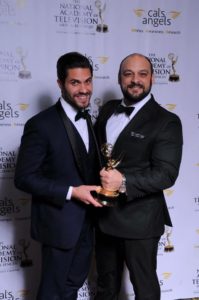 ExitUSA Life After Hate PSA has been nominated for an Emmy!
Partnered with True Music Pro Los Angeles, CA
Completed score for "Urgency" by Joy Stamp
Completed Herman Miller Campaign for Strange Loop Studios (ad)
Completed Tidetec Hydropower Campaign (Sweden)
Many more exciting projects on the horizon and the big move west (Los Angeles) in 2017, stay tuned for updates!
July 2016
Completed score for "Rent A Kid" 48 hour film festival received 2nd place in fest overall. Also, nominated for best production and other awards.
Hired for "Nightingale", short action-hero film.
Preparing to move studio to Los Angeles 2017
June 2016
Completed score for "Remain" by Michael Anthony Cain to be released mid June
Completed score for NYU Thesis Film "The Awful Thing" by Madeline Hope Stephenson to be released Summer 2016
April 2016
Pre-production began for British sci-fi/drama "Look Up" coming June 2016
Scoring began for "The Awful Thing", apocalyptic short by Madeline Stephenson (NYU) April 2016
Mock-ups developed for Elliot Brady's, "Frontier" to be released Summer 2016
April 18, to begin work on Michael A. Cain's, "Remain" Summer 2016
March 2016
Matthew James is in pre-production for several short films due to be released this summer
January 2016
Happy New Year 2016! I have some great things in store for you all, stay tuned.
Winner Excellent Production for Eerie Anecdotes in 2016 San Francisco International New Concept Film Festival